Emotions are a Performance: A new way to see emotions, using semiotics.
#semiotics of #emotion. When people announce they're #happy, they're often trying to appear #normal.
"When I started to look at emotion, specifically, I found that people were often using words such as disgust, happy, sad, devastated, in love, etc., and what I learned was that behaviour was systematic and orderly; it wasn't random,"
"When someone expresses sadness, for instance, that's entirely available for being managed up and down in intensity, and for negotiation. If someone says they're disgusted, it's almost the exact opposite –they're almost always saying that they're not open to compromise, they don't want to be talked down."
"When people announce they're happy, what they're often trying to project is a display of normality – there's a very close connection between happiness and normality. Happiness is often performed as part of a publicly approved display of normality."
An interview I gave in 2019 which I came across just now while looking for something else. #mrx #marketing #consumerinsight #psychology #discourseanalysis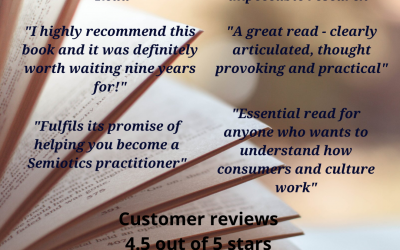 Wonderful reviews from satisfied customers! USING SEMIOTICS IN MARKETINGHow to achieve consumer insight for brand growth and profits Offers a complete handbook and guide to semiotic research written by @drrachellawes WHY you should read this book: it makes brands...