Independent market researchers: Future-proof your career in research using semiotics. Webinar 25 June 2020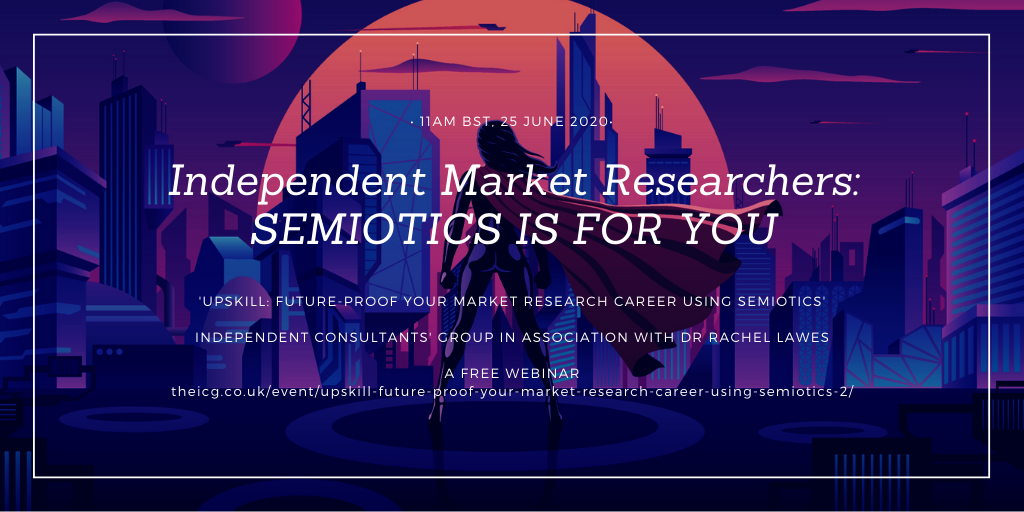 Dear Independent Market Researchers
Marketing is changing. Market research is changing with it: this was true even before the pandemic. Clients think they can do their own research in-house. They are by-passing the traditional interviewer. They are no longer impressed with long market research reports, they want quick answers. If you are a market researcher, especially if you are an independent without the security of a large organisation behind you, this can be very scary. How will you stay relevant and stay in business?
There are some bright aspects to this landscape. The marketing industry has become quite good at collecting 'things' (attitude statements, videos of people's homes, photos of their possessions) direct from consumers using digital tech. But the question arises of what to do with them. Most brand owners don't have a clue what to do with qualitative data, especially visual materials. What's more, the ability to have new ideas about marketing strategy is never going to go out of style. Here is where you can solve a problem for the people who used to buy market research and are now doing it themselves.
But wait – where are you going to get this near-magical ability to find original insights in qualitative data that other market researchers can't see? And how are we suddenly going to become experts on marketing strategy when the entire MR industry has traditionally been focused on discussing consumers rather than businesses? The answer is found in semiotics. It is not just a research method but a quite large set of tools for thinking and generating new ideas. Now, for the first time, there's a book on semiotics written especially for marketers, which takes you through the entire business cycle of semiotic research, from conception to commercial application. It's a self-contained course that anyone with a basic grasp of marketing can use to teach themselves and set themselves apart with robust skills. Best of all, there's no requirement to physically go out and spread coronavirus among consumers.
Are you ready? The book "Using Semiotics in Marketing" will boost and future-proof your career in market research and this webinar, developed exclusively for the ICG, is where your journey begins. Sign up using this link.
 Semiotics Tip – Find & reverse the truisms of your category #Semiotics tip of the day. Here's a fun tool to help you identify and challenge cultural & consumer conventions surrounding your brand, product or category. Truisms are self-evident, obvious truths -...