BBC ARTICLE [23 JUNE] PAUL & AMANDA'S WEDDING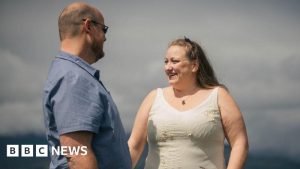 "Our perfectly imperfect wedding was only a possibility because of Rosie and the wonderful folks in Skye."
Paul and Amanda Riesel were close to giving up on their long-planned wedding in Skye. Islanders rallied to save an American couple's wedding after their luggage – including the bride's dress – was lost on their trouble-hit trip to Skye.
Quote: BBC Article 23rd June – Islanders save lost luggage couple's wedding – BBC News, https://www.bbc.com/news/uk-scotland-highlands-islands-61908520
This is the real-life fairy-tale story of when Paul and Amanda got married.
As with all romantic fairy tales, at the outset, they faced the worst trials and tribulations the world had to offer. Starting from Orlando, Florida setbacks included flight delays, rerouting and luggage mishandling. When they eventually made it to their destination (after their 4000 mile journey) they had nothing for the day of their wedding, which was the very next day!
Even though it felt like the world was against them for a while, they persevered and with the help of their social media savvy photographer Rosie and the kind people of Skye (Scotland) they finally made it to the happy ending in Skye everyone was hoping for.
What does semiotics have to say about this story?
This article was published by the BBC a few days ago and is both special and everyday. It is special because it details the exemplary generosity and selflessness of the Skye people. It is everyday because the wonderful feelings enjoyed by everyone who participated are attainable and relatable. It shows how everyday people can and do build a better world, by supporting each other and working together.
People are willing to help each other in times of crisis – collective action and optimism make everyone feel better. And 'crisis' can mean just one person or unlucky couple, or it can mean crises that affect everyone such as cost of living and war.
Brands and businesses and their marketers can choose to co-operate in the project of building a better world, by ethically creating opportunities for people to invest in each other.
Find out more: read "Using Semiotics in Retail" (2022), available worldwide from KoganPage.com, Amazon and all good bookstores.
Kogan Page Marketing & Communications, Market Research Society (MRS), Lawes Consulting Ltd, Dr Rachel Lawes, Joe Lawes,
#semiotics #retail #usingsemioticsinretail #shoppermarketing #shopperinsights #qualitativeresearch #consumerinsights #research #branding #marketing #merchandising #categorymanagement