QUALITATIVE RESEARCH SUPERSTARS 12 JULY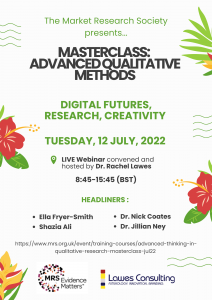 QUALITATIVE RESEARCH SUPERSTARS 12 JULY
The one you've been waiting for … The Summer 2022 session of MRS Advanced Qualitative Methods! This course changes people's careers in market research.
What is it?
It's an acclaimed one-day masterclass, offered by the Market Research Society. Attendance gets you credits towards a Market Research Society qualification.
Who delivers the masterclass?
MRS Advanced Qualitative Methods is convened and delivered by Dr Rachel Lawes, FMRS. She delivers training alongside four speakers, chosen for their skill, relevance and original contribution to qualitative research. THIS JULY we have four very exciting headline acts: Shazia Ali, Dr. Nick Coates, Ella Fryer-Smith and Dr Jillian Ney.
When and where is it?
The session will be held online, Tuesday 12th July 8:45-15:45 (BST).
How do I book my place?
https://www.mrs.org.uk/event/training-courses/advanced-thinking-in-qualitative-research-masterclass-jul22
Last chance to get your ticket! Hurry!
Market Research Society (MRS) Lawes Consulting Ltd, Dr Rachel Lawes, Joe Lawes
#marketresearch  #research  #leadership  #mrx  #semiotics  #virtualcourses  #training