"SUSTAINABLE DESIGN ATTRACTS CUSTOMERS"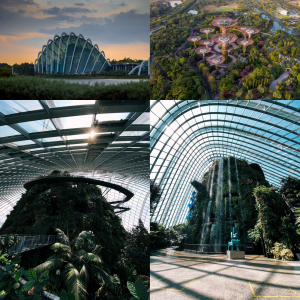 Designers of smart cities know that sustainability and being eco-friendly is not just good for plants and animals, it's good for people. People – your customers – relax when they are among trees and near water. Their mood improves, if they are on your business premises, they are having a better time.
You might not be as rich as the Singapore government, who found $1bn to build its magnificent public park "Gardens by the Bay" https://www.gardensbythebay.com.sg/. Maybe you own a small retail store or a niche brand, you don't own a lot of land or have billions to spend. The good news is that these same principles which are benefiting Singapore can be scaled down to fit your business and budget. You can read all about it in new book "Using Semiotics in Retail", where we help readers to:
– Bring the outside in to your store with plants and flowers.
– Take your retail business or brand outside – go and meet people where they are.
·
– Give people reasons to gather and rest – provide some shade and branded seating where you can.
– Water features don't have to be expensive and can get attention.
– Host some nature-themed promotions, events, whether seasonal or linked to feel-good actions such as displaying children's paintings.
We've seen examples of all of these done well, for example, a grocery store in the Netherlands generated a feel-good factor by giving away postcards with charming, hand-drawn illustrations of fresh produce, and installed a large noticeboard near the door, featuring paintings and drawings of the natural world, made by customers' children.
If you want to find out more about this technique and many more just like it, please read Dr. Rachel Lawes new book "Using Semiotics in Retail".
Get 20% off your copy of "Using Semiotics in Retail" (2022) when you use code SEMIOTICS20 at Rachel Lawes (koganpage.com) . "Using Semiotics in Retail" (2022) is also available worldwide from Amazon and all good bookstores.
Kogan Page Marketing & Communications, Market Research Society (MRS), Lawes Consulting Ltd, Dr Rachel Lawes, Joe Lawes
#semiotics #retail #usingsemioticsinretail #shoppermarketing #shopperinsights #qualitativeresearch #consumerinsights #research #branding #marketing #merchandising #categorymanagement #sustainability #gardensbythebay
Photography;
– Gardens by the Bay, Singapore. Trees, Sergio Sala (2019)
– Marina Gardens Drive, Gardens by the Bay, Singapore. Glass structure, Jiachen Lin (2021)
– Gardens by the Bay Marina, Singapore . Waterfall & Walkway, Keith Yap (2021)
You can find all the pictures in this post at www.unsplash.com