BREAKING NEWS! "Unilever sees an 8–10% uplift on category sales on a like-for-like store basis when its semiotic guidance is implemented."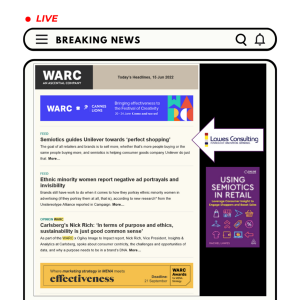 "Unilever sees an 8–10% uplift on category sales on a like-for-like store basis when its semiotic guidance is implemented."
It was such a thrill to receive my regular WARC newsletter and find that Keith Sleight of #Unilever and I, and our joint presentation at Retail Week Live in London made the #news headlines.
It's all down to Keith and his team, of course. I just provide great #shopperinsights using #semiotics. Keith and his colleagues are the ones who turn insights into company policy and measure the sales uplift of their brands.
You can read the WARC feature (which is really clear and well written, thank you so much, Brian Carruthers) on the WARC site: https://www.warc.com/content/paywall/article/event-reports/the-rider-and-the-elephant-how-unilever-uses-semiotics-to-drive-in-store-sales/en-GB/146696?
Or if you don't have a WARC subscription, read the book! It has lots of contributions from Unilever as well as case studies of other brands across a massive range of categories. "Using Semiotics in Retail: Leverage Consumer Insight to Engage Shoppers and Boost Sales" is available worldwide from publisher KoganPage.com, Amazon and all good bookstores.
Lawes Consulting Ltd Kogan Page Jaini Haria 
#retailmarketing #shoppermarketing #shopperinsights #rwl2022 #retailweeklive #culture #research #mrx #categorymanagement #fmcg #usingsemioticsinretail