WATCH NOW! Dr Rachel Lawes is Jagged With Jasravee, the Marketing Show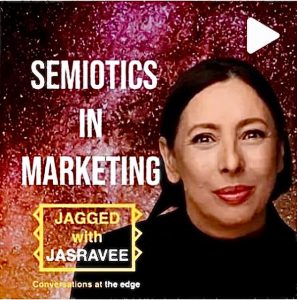 Please listen to Conversation on Jagged with Jasravee Youtube Channel  https://www.youtube.com/watch?v=RByru-73cAY
"#Individualism places a lot of demands and responsibilities on the #consumer. We've got this imperative now to be constantly working on ourselves and improving ourselves. In the future, malls could become #self-improvement centres."
"There's another version of reality in which menopause is the best thing that's ever happened. And we don't have to look very far to find examples of #women saying that menopause and the period of their lives post-menopause was the time when they felt the most energised, the most creative, the most #healthy. They've suddenly got loads of extra testosterone so they're feeling physically strong, their #sex drive came back in a way that it hadn't done for a long time because they'd been raising children.
What we're doing here is observing that nothing is very fixed and that with any kind of trend or consumer need there's going to be a dominant story, a culturally specific story which might vary in different parts of the world, which is a version of reality – just one version. And if you can see it, then you're in a good position to imagine and envisage something else. And considering that #brands are constantly trying to differentiate themselves, this kind of semiotic thinking where we're constantly looking for the flipside, what's on the other side of the coin, can be very liberating."
Jasravee had me on her show and we went into DEPTH about #semiotics and how it is used in #innovation and #futurology as well as boosting sales of everyday brands in #retail.
"Using Semiotics in #Retail" (2022) and "Using Semiotics in #Marketing" (2020) available worldwide from Amazon, publisher KoganPage.com and all good bookstores.
Jaini Haria, Lawes Consulting Ltd, Jasravee Kaur Chandra, Market Research Society (MRS)
#futures #mrx #shoppermarketing #shopperinsights #culture #research