TIP OF THE DAY! CURVES AND ARCHES. From the book "Using Semiotics in Retail" 2022 Dr. Rachel Lawes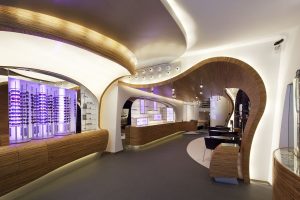 "People around the world love curves, especially arches. In the average person's life, there are thousands of experiences and cultural exposures in which we learn that where there's an arch, there's a space and time that is special – even sacred. Brands and retailers can easily incorporate this insight into packaging and fixture design and even store architecture."
Lawes, R. author of "Using Semiotics in Marketing" & "Using Semiotics in Retail", 2020 & 2022, Kogan Page.
You can improve customer experience in store by introducing curves and arches.
Design in curves to make store interiors more inviting. At scale, they can make a store look premium and even palatial, as we see in the magnificent design of Netherlands optician Hofstede Optiek.
Make shoppers feel special by having them pass under an arch. Place an arch at the entrance of your store or at each end of an aisle. Whether it's a balloon arch celebrating your store's birthday, a wedding-themed arch, or an arched entrance to Santa's grotto, shoppers will know that passing under an arch is like stepping through a portal, to a place where special people go to have special experiences.
Box-shaped stores with grids of aisles, all stacked with rectangular packages, have become the norm and the expectation for most shopping trips. This is an underwhelming experience that can even become depressing over time and makes shopping feel like drudgery. Remember that humans are part of nature, and that nature favours flowing, organic shapes over sharp lines and corners. Round the corners off fixtures and packaging. Don't use a square when you could use a circle. Where you have space, smooth and soften the shopper's path around the store, reducing the feeling that they are in a maze or on tramlines.
Unilever boosts sales using semiotics, and you can too.
Unilever uses this and dozens of other essential semiotic insights as part of its Shopper Eyes toolkit. This toolkit is proven to boost sales and make customers happier. Now the secrets of semiotics, as used by Unilever, are revealed in new book "Using Semiotics in Retail". You can read Unilever's own works about how these techniques work and apply them to your own store or brand.
THIS OFFER ENDS AT THE END THIS MONTH! Get 20% off your copy of "Using Semiotics in Retail" and "Using Semiotics in Marketing" when you use code SEMIOTICS20 at Rachel Lawes (koganpage.com) . Both books are also available worldwide from Amazon and all good bookstores.
Kogan Page Marketing & Communications, Market Research Society (MRS), Lawes Consulting Ltd, Dr Rachel Lawes, Joe Lawes
#mrx #insights #cx #ux #qualitative #symbols #marketing #marketresearch
Nowotny Atelier's design for Hofstede Optieks store in the Hague
Reproduced with kind permission of Hofstede Optiek and Raoul Suermondt architectural photography
FROM 'USING SEMIOTICS IN RETAIL' 2022 p. 240