CLEAR FOCUS PODCAST: RACHEL LAWES / ADRIAN TENNANT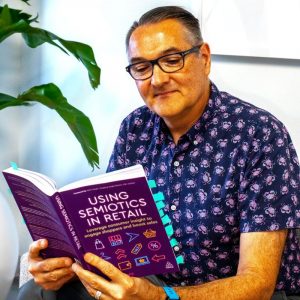 If you work in #retail #marketing there's a #podcast episode coming your way that you don't want to miss. If you're young and at the start of an amazing career in marketing, this episode will introduce you to cutting-edge #insights and eye-opening new views of the world around us. If you're a seasoned senior marketer, you recognise original and strategic thinking when you see it and you are on the hunt for ideas that help you innovate. This episode has what you need.
The podcast is "In Clear Focus", hosted by Adrian Tennant, Chief Strategy Officer of Bigeye creative agency in Florida. Adrian likes to interview authors because they bring refreshing and dynamic points of view to his considerable audience. He's kindly invited me on the show to solve all your problems.
How is that even possible? #Semiotics. It's a provocative, original and inspiring point of view that is a power tool for marketers. And now there's ground-breaking #research on the semiotics of retail marketing. Newly published #book "Using Semiotics in Retail: Leverage consumer insight to engage #shoppers and boost #sales" reveals the #future of retail marketing along with a host of profit-generating marketing actions for you to use today.
DO THIS NEXT
– Subscribe to the "In Clear Focus" podcast to receive a notification of when the episode will air.
– Follow Dr Rachel Lawes and Lawes Consulting Ltd on social media for further announcements.
– Read "Using Semiotics in Retail" (2022) and "Using Semiotics in Marketing" (2020). Available worldwide. Amazon, publisher Kogan Page and all good booksellers.
Thank you so much Adrian Tennant for sending me this great photo. Adrian is avidly reading "Using Semiotics in Retail" and is at the top of the leaderboard for most Post-It notes inserted in a copy of my book. Well done, Adrian.
#inclearfocus #usingsemioticsinretail #usingsemioticsinmarketing #shopperinsights #shoppermarketing #retailmarketing #culture #psychology Kogan Page Marketing & Communications Natasha Tulett Naurin Rashid Joe Lawes Lawes Consulting Ltd Bigeye