GET YOUR TICKET NOW! DON'T MISS OUT – RESEARCH SOCIETY WEBINAR 7TH JUNE!!!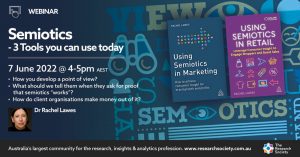 Dr. Rachel Lawes speaks at The Research Society discussing 3 tools you can use in semiotics today. Click here to register: https://researchsociety.com.au/events/event/Webinar-Semiotics
In this webinar, Dr Rachel Lawes will introduce you to semiotics and outline how you can get started using semiotics.
Learn how to:
Approach semiotics as a method; &
Use 3 tools to get you started with Semiotics.
The session will answer questions such as:
How you develop a point of view?
What should we tell them when they ask for proof that semiotics "works"?
And after all that, how do client organisations make money out of it?
"Using Semiotics in Retail" and "Using Semiotics in Marketing" are available worldwide from Amazon and all good bookstores. Use code SEMIOTICS20 to get 20% off when you order from koganpage.com
#semiotics #usingsemioticsinretail  #food #culture #shopping #shopperinsights #retail #retailmarketing #psychology #research  #marketing #branding #communications
The Research Society, Market Research Society (MRS), Kogan Page Marketing & Communications Lawes Consulting Ltd, Joe Lawes