Dr. Rachel Lawes (Lawes Consulting) and Keith Sleight (Unilever) at Retail Week Live 2022!!!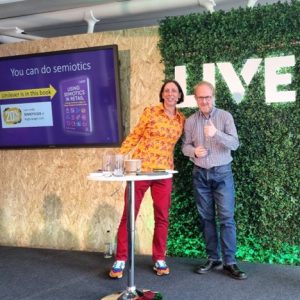 It was standing room only yesterday at the Track 1 stage at Retail Week Live, 2022. Keith Sleight, Global Director of Shopping Insights at Unilever and I presented electrifying insights from #semiotics and showed how Unilever uses semiotics to make #sales go up. It was a very lively crowd and we met some dynamic people.
Many, many thanks, Keith Sleight and Unilever for this event and for your kind and generous support of new book, "Using Semiotics in Retail" (Kogan Page, 2020).
As well as using my semiotics services and appearing at RWL to share the news with everyone, Keith wrote the foreword to "Using Semiotics in Retail". And in Chapter 2 you can read an in-depth interview with his colleagues Iris Cremers 🍏and Corinne Trentadue about how they apply semiotic thinking to make shopping better for everyone.
#rwl2022 #retail #marketing #fmcg #shopperinsight #shoppers Retail Week Kogan Page Jaini Haria Stephen Dunnell Joe Lawes Lawes Consulting Ltd
Thanks for taking this great photo, Sabrina Kazmi