GET YOUR TICKET NOW! DR. RACHEL LAWES (25th MAY) RESEARCH WEEK LIVE!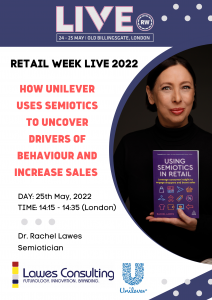 RETAIL WEEK LIVE 2022 (25th-26th MAY)!
HOW UNILEVER USES SEMIOTICS TO UNCOVER DRIVERS OF BEHAVIOUR AND INCREASE SALES
All around the world the decisions and buying behaviour of shoppers are influenced by invisible social forces. Semiotics uncovers those secrets and puts power in your hands.
Keith Sleight, Director of Global Shopping Insights at Unilever, and Dr. Rachel Lawes, semiologist, author of "Using Semiotics in Marketing" (2020) and "Using Semiotics in Retail" (2022) appear together exclusively at RETAIL WEEK LIVE 2022 to reveal all.
Semiotics is at the centre of Unilever's shopper insight strategy. Discover how Unilever succeeds and how you too can win with semiotics.
25th MAY 14:15 – 14:35 (London)
Click here to sign up, https://www.eventsforce.net/rwwrc/frontend/reg/home.csp?pageID=6170&eventID=15&traceRedir=2
"Using Semiotics in Retail" and "Using Semiotics in Marketing" are available worldwide from Amazon and all good bookstores. Use code SEMIOTICS20 to get 20% off when you order from koganpage.com
#retail #usingsemioticsinretail #culture #shopping #shopperinsights #retailmarketing #psychology #research #semiotics #usingsemioticsinretail #culture #shopping #shopperinsights  #retailmarketing #psychology #research 
Market Research Society (MRS) Kogan Page Marketing & Communications Retail Week Keith Sleight Unilever Lawes Consulting Ltd Joe Lawes