DR. RACHEL LAWES (18th MAY) RELEASING YOUR INNER BOOK / PIMENTO MARKETING SPICE LIVE!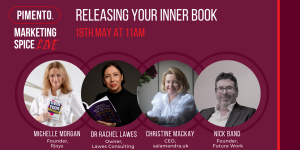 MARKETING SPICE LIVE: RELEASING YOUR INNER BOOK (18th MAY)!!! 
– Hey marketers, how much would you like to write and publish a book? Discover inspiration, hot tips and secrets, in an exciting live event hosted by Pimento business networking club
– Nick Band gets into a lively discussion with Dr. Rachel Lawes and two other leading authors on marketing
– Rachel has a brand-new book out, "Using Semiotics in Retail: Leverage consumer insight to engage shoppers and boost sales" (2022) which is the follow up to her first book "Using Semiotics in Marketing: How to achieve consumer insights for brand growth and profits." (2020)
– Both books are packed with fascinating new research techniques and skills that any marketer can easily apply.
18 MAY 2022: 11:00 AM (BST), 10:00 AM (GMT)
SIGN UP HERE: https://us02web.zoom.us/meeting/register/tZMld-ihqDoqGd3XCZz89vj3PFgV02I8ne3D
Zoom webinar, anyone is welcome just register above and sign up for free.
"Using Semiotics in Retail" and "Using Semiotics in Marketing" ARE available worldwide from Amazon and all good bookstores. Use code SEMIOTICS20 to get 20% off when you order from koganpage.com
#semiotics #usingsemioticsinretail  #food #culture #shopping #shopperinsights #retail #retailmarketing #psychology #research  #marketing #branding #communications
Pimento, Market Research Society (MRS), Lawes Consulting Ltd, Joe Lawes