LISTEN NOW! Adrian Tennant & Rachel Lawes – Clear Focus Podcast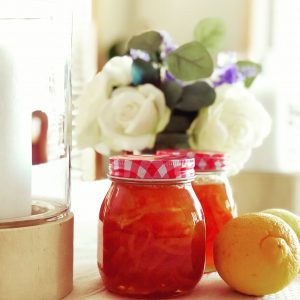 Does your brand have a provenance or origin story? Do you want to exploit history in your branding and store design? Learn how to use semiotic signs the RIGHT way and not the WRONG way with this exciting podcast interview – available to listen now.
GASP as you hear the story of the shop that was trying to sell jam but was actually selling funerals. Benefit from these ACTIONS that will help you avoid the same fate!
DON'T DO THIS: aim for some vague idea of 'classy', leading to stone floors and retail assistants dressed up like undertakers. Lesson for brands: when you don't have a clear idea of what you mean by 'classy', you can end up with a brand that looks old fashioned or even totally inappropriate for the category.
DO THIS: Know which point in history you intent to exploit and research it. 18th century? People wore all sorts of colours, furniture was decorated with pastoral scenes and food was engineered into complicated shapes. 1960s? The era of Cooper Black, hippies and psychedelia. All points in history are collections of semiotic signs which you can use to sell anything, including food, if you choose them carefully and get them all pointing in the same direction.
USE THESE key semiotic prompts and questions to help you get there:
– Where have I seen this before?
– Are the semiotic signs pointing in the direction you want and not some other direction? (French palaces, not modern-day funerals)
– Are all the semiotic signs pointing in the same direction or are any out of place?
Listen now to Adrian Tennant interview Dr Rachel Lawes on his podcast, "In Clear Focus", episode 10. Want more semiotics? Buy the book!
Get 20% off your copy of "Using Semiotics in Retail" when you use code SEMIOTICS20 at koganpage.com. "Using Semiotics in Retail" is also available worldwide from Amazon and all good bookstores.
#semiotics #usingsemioticsinretail #inclearfocus #food #culture #shopping #shopperinsights #retail #retailmarketing #psychology #research
Adrian Tennant Jaini Haria Lawes Consulting Ltd Joe Lawes
(Photograph by Keri Titley)