THERE'S STILL TIME! Dr. Rachel Lawes – EPHMRA Tuesday 3 May 2022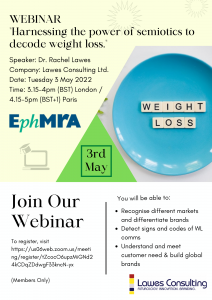 EXCLUSIVE FOR EPHMRA MEMBERS. @EMPHRA members, we have semiotics especially for you! Practical marketing strategies: actions you can take today to add energy and power to your healthcare and pharma brands and comms. Engage diverse audiences. Design on-trend messages that land the way you want. Cutting edge tools: the latest techniques from semiotics. Guidance for agency and client-side marketers.
Exciting case study: weight loss brands. Can you decode them? You will be able to by the end of this session.
Tuesday 3 May 2022 – 3.15-4pm (BST) / 4.15-5pm (CEST)
EPHMRA members: reserve your place
us06web.zoom.us/meeting/register/tZcocO6upzMiGNd24kCDqZDdwgF33kncN-yx
Not a member?
You can join EPHMRA here: org/membership/
Or you can enjoy a range of free videos and downloadables at lawes-consulting.co.uk
Or you can read Rachel's books on semiotics, Using Semiotics in Marketing (Kogan Page, 2020) and Using Semiotics in Retail(Kogan Page, 2022). Get 20% off when you use code SEMIOTICS20 at com/author/rachel-lawes  Both books are available worldwide, also from Amazon and all good bookstores.
#healthcare #pharma #brands #marketing #semiotics #insights #weightloss
Linked in: @BernadetteRogers @KoganPage @MRS @LawesConsulting @JoeLawes