DON'T MISS OUT! Dr. Rachel Lawes – 28 Apr 1st part of a 2 part read-along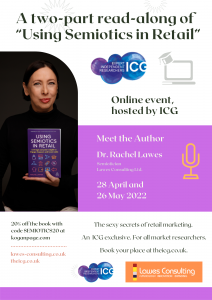 YOU ASKED, WE ANSWERED. By popular demand, here is a read-along with Dr. Rachel Lawes of her new book, "Using Semiotics in Retail". You can:
– Learn semiotics from Rachel in two live sessions.
– Bring your comments, questions and marketing problems for immediate responses.
– Read this exciting new book with Rachel and gain a revolutionary new view of retail marketing.
This read-along, a live online event hosted by ICG, is in two parts, on 28th April and 26th May 2022). Read the first half of the book now and you'll be prepared for part 1 on Thursday 28th April.
The first part of the book (event of 28 April) is all about the present day. It is full of practical marketing actions that marketers, retailers and brands can take TODAY to aid and engage shoppers. Learn how to use semiotic signs to improve stores, fixtures and packaging.
The second part of the book (event of 26 May) is about the future. Semiotics is a tool for thinking and you can use it to get a view of the future of business, retail, employment, technology and human lives.
Book your place now at: https://lnkd.in/dYtPAHdt. This event is free and open to anyone. Not just ICG members.
Get 20% off your copy of "Using Semiotics in Retail" when you use code SEMIOTICS20 at Rachel Lawes (koganpage.com) . "Using Semiotics in Retail" is also available worldwide from Amazon and all good bookstores.
Kogan Page Marketing & Communications Market Research Society (MRS) The ICG Ltd Lucie Wernicke Gilbert Lawes Consulting Ltd Joe Lawes
#semiotics #retail #usingsemioticsinretail #shoppermarketing #shopperinsights #qualitativeresearch #consumerinsights #research #branding #marketing #merchandising #categorymanagement