Join the Happiness Project
We're creating a happiness revolution. Will you join us?
The Market Research Society, together with Lawes Consulting, is on a mission to bring a little more happiness (heck, a lot more happiness) into the world of market research with a new insight-bank – The Happiness Project.
Why The Happiness Project?
Well, it's been a tough old year for the Market Research community, our clients and consumers alike, and we believe that the best way for us all to thrive – in business and personally – is to focus on what it is that's making people happy, because that drives creativity, innovation and then economic growth.
In Britain, and around the world, people have already shown great resolve and creativity to find happiness in these 'unprecedented times'. By unearthing and amplifying this ingenuity, we believe that we can:
help brand owners give consumers more of what they want;
bring MR industry knowledge of happiness to an even wider audience;
encourage first-time business owners in their creative ventures;
stimulate innovation in small and large businesses.
What is The Happiness Project?
At its simplest, The Happiness Project is an insight bank designed to further our understanding of happiness. A free resource for MRS members to draw on to provide fresh perspectives and inspiration for positive thinking, insight and strategy. The Happiness Project is just starting out, and we need your help.
How to get involved and become happy!
We're asking you to join the happiness revolution and share any work you have that builds on our collective understanding of happiness. Whether it's fresh thinking into the psychology of happiness, survey data revealing changes in happiness levels, or trends that are flourishing from people's passions – we want your input to build this valuable, shared resource. Contact Rachel Lawes directly to get involved: rachel at lawes-consulting dot co dot uk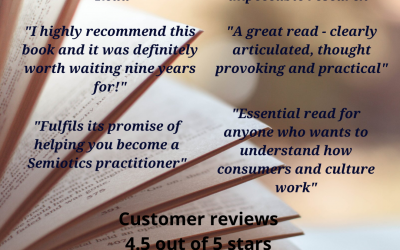 Wonderful reviews from satisfied customers! USING SEMIOTICS IN MARKETINGHow to achieve consumer insight for brand growth and profits Offers a complete handbook and guide to semiotic research written by @drrachellawes WHY you should read this book: it makes brands...