Using Semiotics in Marketing: Meet the author and ask questions.
Semiotics makes brands more appealing and successful.
 It reveals the shared language of signs and symbols that both consumers and brands use to communicate and make sense of the world.
 It helps brands respond to social change and social trends – especially useful at times of natural disaster and civil unrest.
 It unlocks the secrets of consumer behaviour.
Now there's a new book, especially for marketers, which puts the power of semiotics in your hands. You can meet the author in this free webinar hosted by publisher Kogan Page.
https://www.eventbrite.co.uk/e/off-the-page-using-semiotics-to-better-understand-consumer-behaviour-tickets-109824275364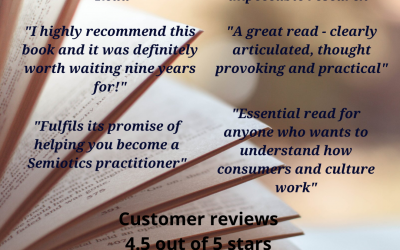 Wonderful reviews from satisfied customers! USING SEMIOTICS IN MARKETINGHow to achieve consumer insight for brand growth and profits Offers a complete handbook and guide to semiotic research written by @drrachellawes WHY you should read this book: it makes brands...