"Using Semiotics in Marketing" – special read-along with the author – last-minute places available.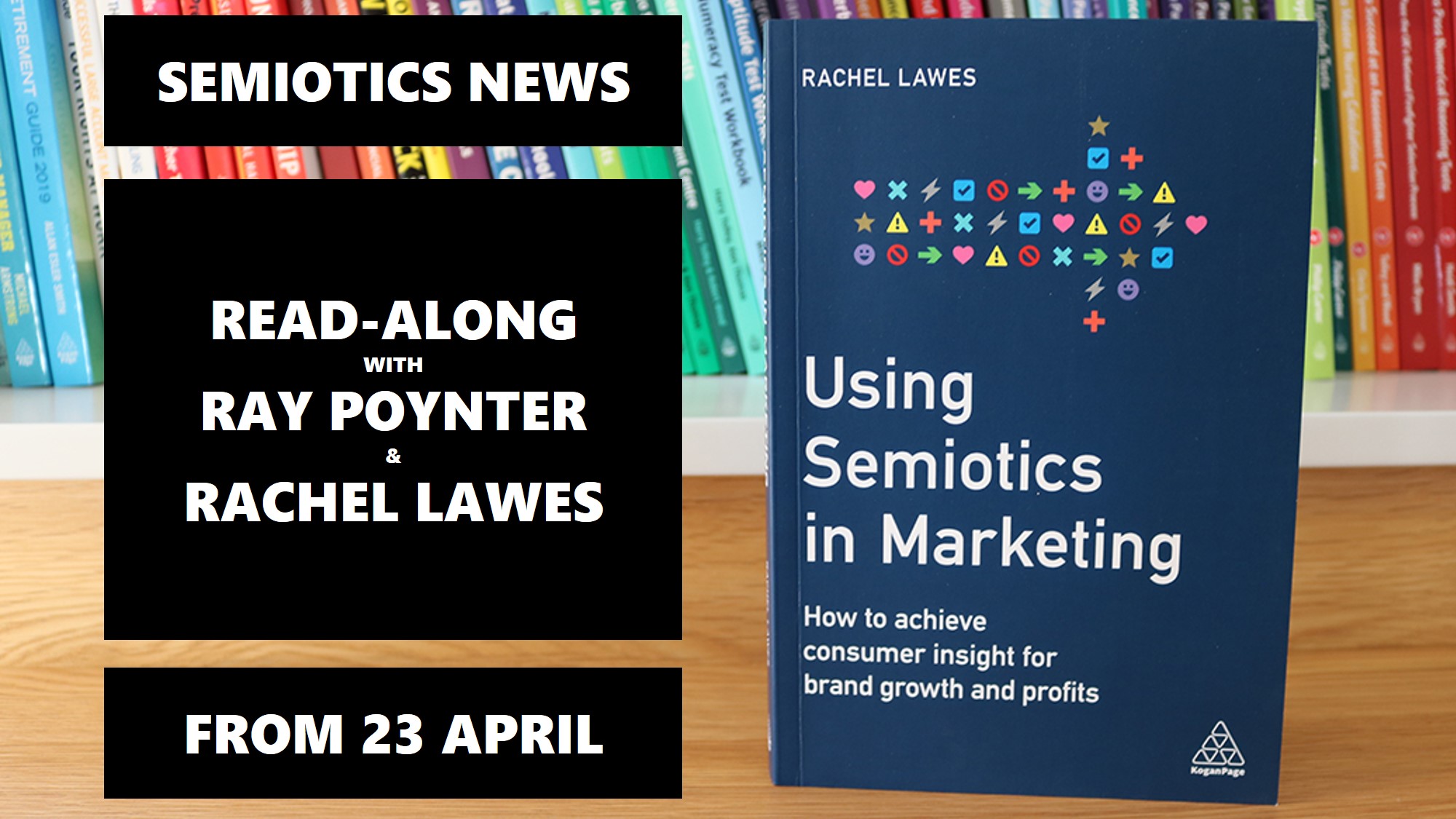 If you work in marketing or market research, semiotics will change your career and then it will change your life. My newly-published book, Using Semiotics in Marketing: How to achieve consumer insight for brand growth and profits, offers a complete handbook and guide to semiotic research. It is the first book on semiotics for marketers which guides readers through the entire business cycle of designing and implementing semiotic research. It is packed full of tools for uncovering insights, turning them into marketing strategy, and innovating new products and services. At the same time, learning to look at the world around you through a semiotic lens will change the way you see everything – it is a series of revelations that once seen, cannot be unseen.
A FREE read-along of the book is being hosted by Ray Poynter, a luminary of market research. Over several webinars, about three weeks apart, participants read the book with Rachel and Ray at the pace of a chapter a week. All participants are encouraged to do their own research project, using semiotics, as we progress, with guidance from Rachel. There's also a LinkedIn group specifically for the readalong, where anyone can ask questions, discuss and share their work.
The introduction to the webinar series happened on 23 April and the group is currently reading chapters 1-3 in preparation for the next webinar on 21 May 2020. There is still time for you to join the read-along if you sign up and start reading now. Webinars in this series occur at a rate of one every three weeks, and the last episode, covering chapters 9-12, will be on 23 July.
Links:
Go here to sign up. This web page is your portal for the webinar series, which is hosted by Ray Poynter of NewMR.  
Use this link to request membership of the 'Using Semiotics' read-along LinkedIn group.
Use this link to view the introduction to the series, broadcast 23 June.
The book is available worldwide from retailers including Amazon and from the publishers Kogan Page.
 Market Research Society Fellowship presentation at Excellence Awards lunch Congratulations to Dr Rachel Lawes who was awarded her certification of Fellowship kindly awarded by the Market Research Society at the Excellence Awards Lunch at The Langham London on 17th...