WATCH NOW! 1st PART OF A TWO PART READ ALONG WITH DR RACHEL LAWES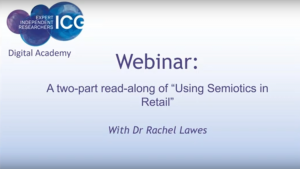 "People around the world love arches – install an arch at the door of your store, at the top of a fixture or at the end of an aisle." 
Why do arches work? They are conventionally used to mark off a space as being special e.g.
– Santa's grottos 
– Entrance to a grand cathedral 
– A balloon arch outside a house for a child's birthday party
Learn this technique and half a dozen more in this exciting read-along. 
WATCH NOW! 1st PART OF A TWO PART READ ALONG WITH DR RACHEL LAWES. 
Click here: https://lnkd.in/ejs3wv4Z 
Read along with Rachel Lawes as she takes you on a journey of discovery. This video is part 1 of a 2 -part series in which we explore her new book "Using Semiotics in Retail" 
The first half of the book talks about marketing and retail in the present day. It is full of practical and affordable actions which you can implement, right now to improve shopping and boost sales. Includes exciting Unilever case studies and emerging consumer needs. 
Part two of the read-along is about the future – video coming soon. 
HAVEN'T READ THE BOOK? 
Click here: koganpage.com 
"USING SEMIOTICS IN RETAIL" (2022) Dr. Rachel Lawes 
Get 20% off your copy of "Using Semiotics in Retail" (2022) when you use code SEMIOTICS20 at Rachel Lawes (koganpage.com) . "Using Semiotics in Retail" (2022) is also available worldwide from Amazon and all good bookstores.
Kogan Page Marketing & Communications, Market Research Society (MRS), Lawes Consulting Ltd, Dr Rachel Lawes, Joe Lawes, The ICG Ltd
#semiotics #retail #usingsemioticsinretail #shoppermarketing #shopperinsights #qualitativeresearch #consumerinsights #research #branding #marketing #merchandising #categorymanagement