Can Semiotics Help Brands Drive Profit? Absolutely.
Can Semiotics Help Brands Drive Profit? Absolutely.
A great case study for how semiotic thinking can impact the bottom line is when toilet-tissue brand Charmin used semiotic insight to inform their rebrand to Cushelle and protect their sales from a forecasted 20% decline.
Back in 2011, Charmin had been sold to SCA by P&G, and the terms of that sale were that the well-known Charmin name and their much-loved bear mascot could no longer be used. Millward Brown had predicted a 20% drop in sales as a result – a financial fate witnessed in Germany who simply subsumed the Charmin brand under an existing brand.
However, in the UK, semiotics were deployed to identify a new brand name and mascot for Charmin. Clever semiotic analysis of the brand's linguistic, visual and emotional attributes led the marketing team to a new brand name and mascot that were so successful that the brand avoided any of the forecasted drop in sales and went on to beat its nearest rivals to assume second place in the category.
To find out more about how semiotics was able to help Charmin successfully transition and rebrand, and for more ways that semiotic thinking can help grow your bottom line, check out our book, Using Semiotics in Marketing: How to achieve consumer insight for brand growth and profit. It's the first book on semiotics for marketers which guides readers through the entire business cycle of designing and implementing semiotic research. It's packed full of examples and tools for uncovering insights, turning them into marketing strategy, and innovating new products and services.
Buy now on Amazon or direct from Kogan Page.
#marketing #marketresearch #consumerinsights #brandgrowth #profits #mrx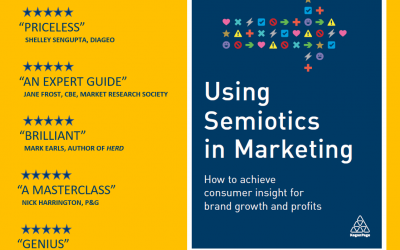 USING SEMIOTICS IN MARKETINGHow to achieve consumer insight for brand growth and profitsOffers a complete handbook and guide to semiotic research written by @drrachellawes WHY you should read this book: it makes brands more profitable, by equipping marketers...