Using Semiotics in Marketing: SEMIOTICS TIP OF THE WEEK – Find & reverse the truisms of your category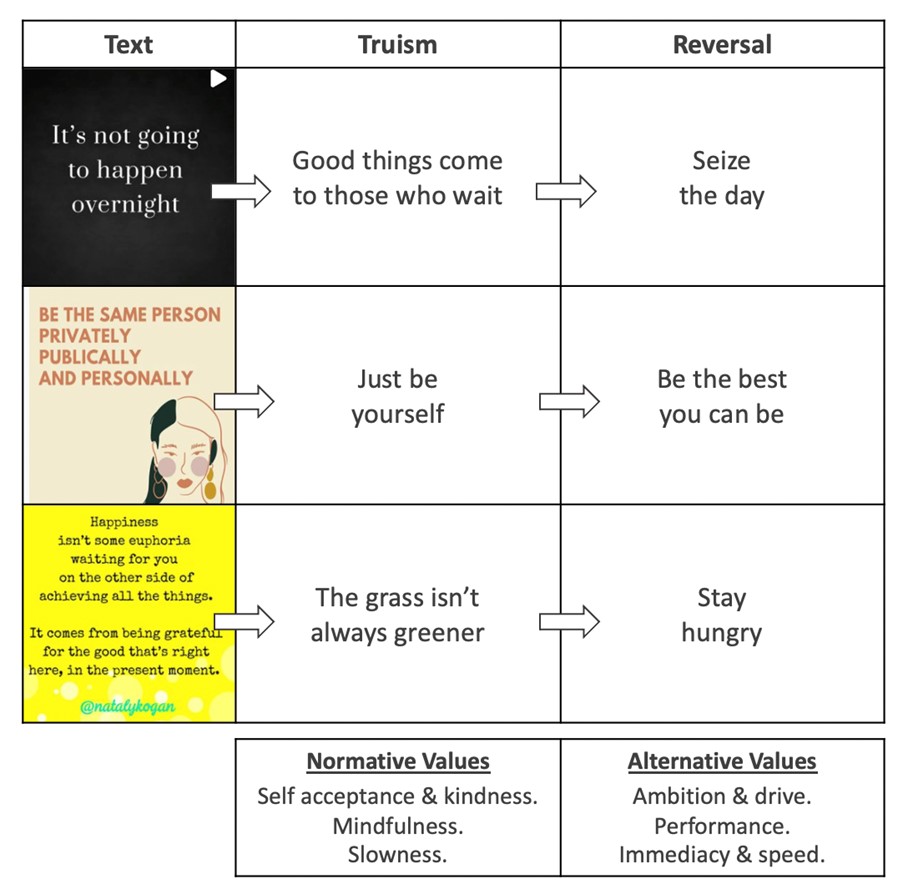 Semiotics Tip – Find & reverse the truisms of your category
#Semiotics tip of the day.
Here's a fun tool to help you identify and challenge cultural & consumer conventions surrounding your brand, product or category.
Truisms are self-evident, obvious truths – "you get what you pay for", "some things never change", "you are what you eat" etc. At first glance they might appear empty and meaningless, but under a semiotic lens, there is rich insight to be found. Truisms can help us to identify accepted, dominant cultural norms for brands to tap into as well as credible alternative narratives that brands can also use.
Step 1. Identify a body of discourse surrounding your category – expressions, mottoes, proverbs, maxims and pearls of wisdom being passed around. For example, if you're interested in wellness & wellbeing, you could start by exploring #wellbeing #wellness on Instagram for posts with relevant language and inspirational quotes.
Step 2. Find the truisms that sit at the heart of those expressions and list them in a table. In a separate column, write a credible reverse or opposite statement for each of the truisms you've found.
Step 3 – Identify what unites the truisms in the first column – these are the normative values in the category. Identify what unites the saying in the second column – these are the alternative values. Both sets of values can inspire ideas for your brands or products; either by meeting the needs of the dominant values, or by going against them to create new and distinctive propositions.
Give it a go!
Based on over 20 years experience of delivering semiotics to brand owning clients, Rachel Lawes offers best advice on how to share the findings of semiotics research in a way that audiences will find engaging, easy to understand, and applicable in real-life business situations.
USING SEMIOTICS IN MARKETING is available worldwide from Amazon, KoganPage.com and all good booksellers. Use code AMKSIM20 for 20% off.
#marketing #marketresearch #consumerinsights #brandgrowth #profits #mrx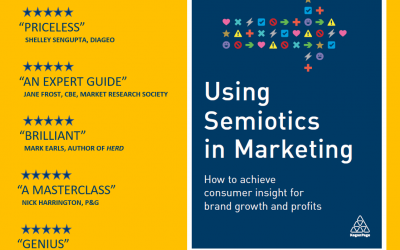 USING SEMIOTICS IN MARKETINGHow to achieve consumer insight for brand growth and profitsOffers a complete handbook and guide to semiotic research written by @drrachellawes WHY you should read this book: it makes brands more profitable, by equipping marketers...